Join Me in Shaping Our Future: Kristina Ledford for MLS Committee
Posted by Kristina Ledford on Wednesday, November 15, 2023 at 12:33:56 PM
By Kristina Ledford / November 15, 2023
Comment
Join Me in Shaping Our Future: Kristina Ledford for MLS Committee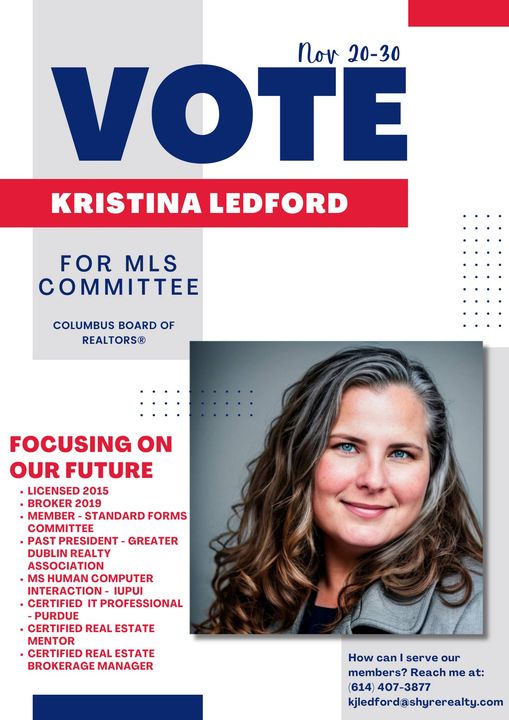 Hello fellow Brokers,
I'm Kristina Ledford, and I'm thrilled to share that I'm running for a position on the MLS Committee of the Columbus Board of REALTORS®. This role isn't just about serving; it's about leading our community into a future where we can all thrive. Here's why your support matters:
1) Navigating Legal Landscapes: In light of ongoing lawsuits affecting our industry, it's vital to have a voice on the MLS Committee that earnestly advocates for our rights and interests. I am dedicated to ensuring we stay informed and protected against any legal challenges that may arise.
2) Adapting to Technology Advances: The real estate landscape is rapidly changing with new technologies. Being on the MLS Committee, I aim to ensure these innovations are accessible and beneficial for all of us, keeping our industry at the forefront of efficiency and client satisfaction.
3) Market Stability and Predictability: The fluctuating market is a constant challenge. I plan to leverage MLS data more effectively to provide deeper insights and forecasts, helping us navigate and adapt to market changes proactively.
4) Enhanced Collaboration and Transparency: A strong MLS system is the backbone of our industry. I'm committed to fostering a more collaborative environment where transparency and shared knowledge lead to better deals and happier clients.
Together, we can tackle these challenges head-on. I'm asking for your vote not just for my seat on the committee, but for a partnership in proactively building a brighter future for all Columbus REALTORS®.